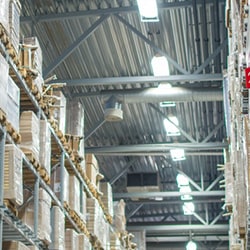 Airfield Warehousing based in Oundle, just outside of Peterborough are a professional warehouse storage, handling and transport that have been running for over 30 years.
Their warehouse storage site had been rebuilt in the 1980s and has over 110,000sq ft of purpose-built dry, secure warehousing space together with large areas for outside storage too. They were looking to upgrade the current Fluorescent and Sodium bay lighting system in place wit high quality LED Products.
The client had on-going issues with the current lighting system that required an energy saving solution, the issues included the following.
Exceedingly high energy usage within low traffic warehouse areas
Low light levels within warehouse areas creating picking and packing errors
External CCTV system was not effective at night time due to poor lighting levels from current sodium lighting units
Emergency lighting did not conform to regulations
High maintenance costs in comparison to LED alternatives
The requirement from the client were mainly to minimise running costs using Prolite LED lighting products. An increase of light levels throughout the site was required to decrease the picking and packing errors and also increase the clarity of the CCTV system in place at night time. All internal units required the option to include an emergency option to fall in line with current legislation.
After a site evaluation, the project specification team advised replacing the current lighting system with a bespoke LED lighting system. The light levels were all predicted before installation took place by our in-house lighting design team.
This was to ensure that a genuine increase of both LUX levels as well as uniformity of light would be achievable in both internal and external areas. A programmable sensor system was also designed within the fittings to ensure any low traffic areas of the warehouse would not be illuminated whilst no workers were within the area, maximising energy savings for the site as much as physically possible.
Airfield warehouse now have a low energy sustainable lighting system. The warranty period in turn guarantee's that the energy savings will be made.
Annual Electricity Bill Before
Annual Electricity Bill After
Additional Sensor saving = £5,589.44
Total Saving = £29,214.99
CASE STUDIES CARRIED OUT BY THE PROLITE PROJECT TEAM