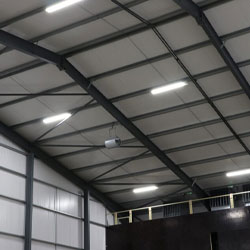 The Leverton Brothers are a South Lincolnshire based grower of potatoes, sugarbeet, pulses, oilseeds, straw and grains.
Prolite Projects were appointed to specify the correct lighting levels using the most efficient LED lighting possible within the Leverton Brothers' three zone climate controlled potato box store at Dyke Fen Farm, Bourne. This included both general lighting, periodic potato inspection lighting and also external floodlighting to the perimeter of the building.
Using a range of foodsafe specification light fittings, the Prolite Project team fitted a range of food-safe fittings suitable for the application. The project demanded a combination of both highly efficient LED light output and uniform light levels required for the inspection of potatoes within all of the the 3 stores which the Prolite Project team achieved on budget.
CASE STUDIES CARRIED OUT BY THE PROLITE PROJECT TEAM