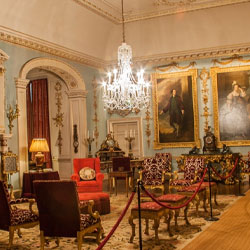 A Wonderful Castle in the heart of Lincolnshire. Grimsthorpe Castle is a historic house that lies within a 3000 acre park of rolling pastures, lakes and woodland landscaped by Capability Brown.
Grimsthorpe Castle is a beautiful stately home set in stunning countryside near Bourne in Lincolnshire. The castle is the centrepiece of the estate and is a large quadrangular house with a central courtyard. Each section of the house has a different appearance, reflecting the different architectural styles that have been employed here since building began in the 13th century.
Grimsthorpe has been the home of the de Eresby family since 1516 when it was granted by Henry VIII to the 11th Baron Willoughby de Eresby on the occasion of his marriage to Maria de Salinas, lady-in-waiting to Queen Katherine of Aragon. It is now owned and managed by The Grimsthorpe & Dummond Castle trust.
The Castle collection includes tapestries, furniture, ceramics and paintings. Many are on display in the State rooms where the shutters and curtains are closed to ensure that the fragile contents in the rooms are protected from direct sunlight.
There are many lights within the rooms to create an intimate and home-like atmosphere and to display the contents to the many visitors the castle receives each year.
The numerous chandeliers and standard lamps consume a vast amount of energy annually. The problem the trust needed to overcome was how to save energy whilst maintaining the aesthetics of the standard incandescent lamps and visually displaying the exhibits of the room to maximum effect.
The Prolite Projects team conducted an energy survey at the castle to identify potential energy savings that could be achieved through an LED upgrade installation throughout the castle.
By upgrading the standard power hungry incandescent lamps to Prolite's new range of aesthetically pleasing LED filament lamps the energy usage in the rooms where lamps have been changed has reduced by over 95%.
The return on investment for the Castle was achieved in less than 3 months! The 2 year product warranty offered by Prolite ensures that the savings will be made time and time again.
The Prolite Projects Team undertook a comprehensive survey of Grimsthorpe Castle's lighting requirements, identified the savings and then delivered a quality product on time and within budget.
Annual Electricity Bill Before
Annual Electricity Bill After
Return on investment was achieved within less than three months
CASE STUDIES CARRIED OUT BY THE PROLITE PROJECT TEAM