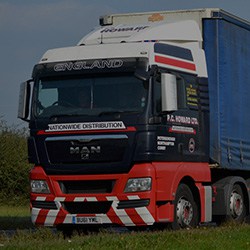 PC Howard LTD are one of the UK's leading third party logistics providers and were looking to modernise the current lighting systems in place. This was throughout their busy 24 hour depot based in Kings Cliffe, Northamptonshire and included offices, corridors, despatch centre, warehouses and external yard areas.
The client required a long term, low-energy solution to their on-going issue of picking and packing errors within their despatch, warehouse and external yard areas. The lights needed to offer an increase in light output to reduce these errors, whilst minimising both energy consumption and maintenance costs.
Other areas within the depot included offices and corridors where low energy replacement products were required, whilst maintaining current light levels on site.
After a site evaluation, the project specification team advised replacing the power hungry 400w metal halide bay lights with High Output LED Tray-Bay fittings. Using just 144w's of energy each, these units were able to increase light levels by more than 30% across the main despatch area's of the warehouse.
The running costs of the site's lighting system has now been reduced by more than 70% and also offered a return of investment on materials of just 1.4 years.
Annual Electricity Bill Before
Annual Electricity Bill After
CASE STUDIES CARRIED OUT BY THE PROLITE PROJECT TEAM